Once the weather turns warm, there's nothing better than tossing dinner on a barbecue and enjoying perfectly grilled steak, chicken, and vegetables with family and friends. Though it only takes the suitable marinade or recipe for a delicious barbecue dinner, it may take a bit more consideration when choosing just the proper barbecue, and there are many considerations to keep in mind when shopping.
Check out Amazon's Bbq store for the selection of all barbecue's
Types of Barbecues
Before you purchase a barbecue, the primary consideration is how to power your grill. Your choice comes down to personal preference, as well as cost, and how often you'll be using the barbecue. A gas grill runs on propane or natural gas. These are easily the most common types of barbecues, and it's cost-effective and straightforward to use a gas grill. Gas barbecues also start up faster than other types of grills. The only downside to gas barbecues is that they may be more expensive than charcoal, and they don't impart that beloved charcoal flavor to foods.
Messy to clean up but providing the grilled taste everyone loves, charcoal barbecues take longer to heat up than gas. However, some say that the taste is worth the time and effort, making charcoal models a favorite among foodies. If you love the taste of barbecued food but don't have space or money to splurge on a full-sized model, an electric barbecue is a solid option. You don't even need a fire; simply a plug to power the grill will do. Though the taste isn't the same, these barbecues still produce nutritious and delicious barbecued meats and vegetables.
Tailgating and camping are just two occasions in which a portable barbecue may come in handy. Like traditional models, you can purchase gas, charcoal, or electric designs, and their small size and lightweight construction make them easy to travel with. The only downside is you can't cook as much food at once.
How to Pick a Barbecue
So you've narrowed it down to charcoal, gas, or electric, and now you need to refine your considerations to allow for more specific factors. Are you just putting together a meal for your family of four or a small group of friends in your backyard? Consider a small amount of surface space. However, if you're cooking for many people, you'll need more space to cook multiple meals at once. Also, if you're going to use the barbecue for sides and meats, you may want to opt for burners and shelves.
Also, consider where your barbecue will go. Measure the location to make sure the grill you're looking at will fit in the designated area. Be sure to leave enough clearance for safety and ample room to cook comfortably.
If you're using a barbecue for a special event, like a wedding, or for catering purposes, consider investing in a large barbecue with all the bells and whistles that will give you the space you need to cook multiple meals at once and gives you the flexibility to create sides at different temperatures, and offers storage space and quick cleanup.
Barbecue Accessories
Though the barbecue is the show's star, accessories are the tools you need for a job well done. Take your grill from subpar to superior with the right tools and accessories and do cooking outside simple.
Implements like spatulas and tongs aren't just handy in the kitchen. Use these tools to evenly cook your meat, flip, adjust, and cut food as desired. A basting brush coats chicken with barbecue sauce and skewers create the perfect way to eat cubed meats and vegetables.
Impart a smoky flavor to your meals with the aid of wood chips. When placed in a smoker box, these come in different flavors, infuse food with specific tastes, such as mesquite or hickory. A rotisserie is a specialty cooking tool that lets you slow cook a whole chicken or other meat cuts on a barbecue. This creates a tender, succulent, and juicy meal, and there are options meant for gas or charcoal barbecues.
Roasters and racks make it easy to cook a variety of foods at once. These serve as another cooking surface, leaving your grill with more open space.
Cleaning a Barbecue
Cleanup may not be fun, but it is necessary, so be sure you have the right tools for the job. When you're not using it, keep your barbecue covered to protect it from the elements. Durable and water-resistant covers protect your investment year-round.
Keep your barbecue sparkling clean with various implements, including scrapers, brushes, sponges, and cloths. Purchase a special grill cleaner to use after an evening of grilling, and make sure your grill is clean each night before you put it away. Replace broken or worn-out parts as necessary, and keep an eye on any loose pieces or dirty grates. Consistently maintaining your barbecue helps to ensure its longevity.
Creating Meals with a Barbecue
Now comes the fun part; the food. Meals cooked on a barbecue are indescribable, but 'tasty' is a safe adjective to use. You can easily find recipes online, in books, or ask friends for their favorite barbecued meal suggestions. Keep a book of your favorite recipes handy for those impromptu cookouts.
The magic is in the marinade. Using marinades and rubs to season meat before it hits the barbecue creates a delicious flavor that you can't get using just the grill alone. Experiment with different flavor combinations for other meats, and don't forget to season the veggies too.
Safety: Mitts, Aprons, Gloves, and Temps
You're not immune to a bit of heat when you're barbecuing, and it's best to stay protected to keep accidents at a minimum. Protect your hands with gloves and mitts, and cover your clothing with a full-length apron to avoid spills and burns.
Foods must be cooked to a specific temperature for safety reasons, so having a thermometer on hand is necessary. Check that your food meets health requirements before serving to keep everyone safe and healthy.
Best Barbecue Brands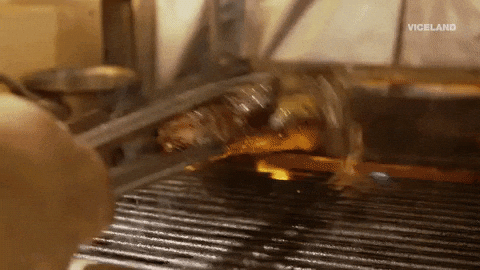 Choosing a barbecue comes down to brand preference, and there are a few that stand out among the others. Weber offers various top-of-the-line barbecues in every category, from charcoal and gas to electric and portable. These high-end grills will satisfy your urge for delicious food and a top-notch cooking system.
Known for their high-tech design, which channels fat away from the meat while grilling, Grillstream options are innovative and perfect for those concerned with healthy eating. Offering a wide selection of barbecues of various types, Landmann sells a barbecue that doubles as a pizza oven.
Choosing a barbecue may be overwhelming, but once you get down to the nuts and bolts of picking the suitable model, it's fun and straightforward to choose a backyard barbecue. Once you do, you may find your yard becomes the most popular on the block!